The global oil market remains under supply despite signs of weakening demand as the global economy slows down.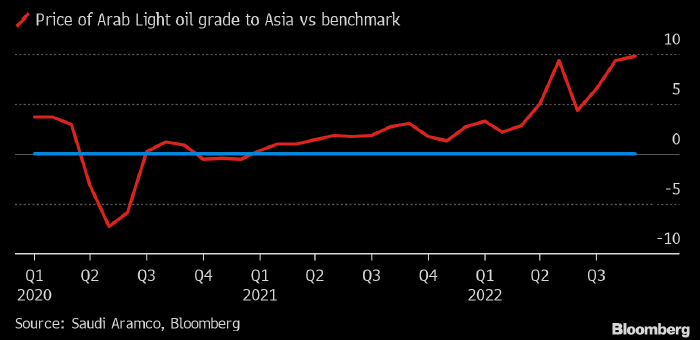 Arab Light award to the regional benchmark for September shipments to Asia. Source: Bloomberg
Saudi Arabia's Arab Light pushed oil prices to record highs for buyers in Asia, suggesting that the global market remains undersupply despite signs of weakening demand as the global economy slows.
The state oil company Saudi Aramco has increased the premium to the regional benchmark, with which its grade will be supplied to Asia in September, to $9.80 per barrel. That's a 50-cent jump from August, but traders and refiners were expecting a larger $1.50 gain, according to a Bloomberg survey at the end of July.
Saudi Arabia announced the move a day after OPEC+ responded to months-long U.S. diplomatic efforts with one of the lowest increases in oil production in the alliance's history.
Saudi Arabia is the world's largest oil exporter and sells most of its production to Asia. Aramco's monthly pricing decisions are important to the market as they are often followed by similar actions from other major Gulf producers.
This week, oil has noticeably fallen in price against the backdrop of low consumption of gasoline in the United States and the restoration of production in Libya.